Thai green chicken curry
With papaya salad (Som tam)
Thai green chicken curry can be prepared and cooked in less than 30 minutes! So think twice before wanting to order a take out. The coconut milk and green curry paste creates an authentic tasting curry that is aromatic, spicy and sweet in flavour. The recipe can be adapted by replacing the chicken with prawns or if vegetarian, replacing the chicken with tofu.
Instead of rice, enjoy the curry on its own or together with a som tam salad, a traditional Thai salad made with green papaya. Som tam is packed full of flavour and will compliment your Thai green curry. You will be able to source green papaya from a local asian store if there is one near you. Alternatively if there is not asian store nearby, the papaya can be substituted for sour green apples and carrots and is just as delicious.
When choosing coconut milk, a good brand to go for is Biona as it is free from sulphites, stabilisers and additives. Its best to avoid these extra added ingredients if you suffer from existing allergies such as asthma, skin conditions, sneezing or coughing.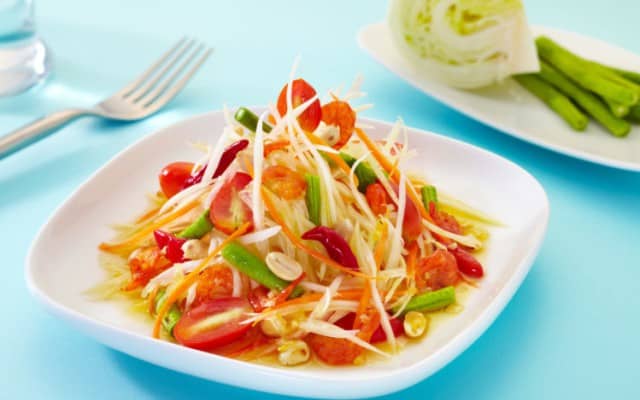 Ingredients
For the curry:
1 small onion chopped
1 Tbsp olive oil
2 garlic cloves crushed
3 kaffir lime leaves
Handful of mangetout (snap pea) 10 g fresh coriander
Handful of fresh basil leaves
2 Tsp fish sauce (optional)
1 Can of coconut milk
100g chicken breast meat cubed
2 heaped tsp Thai green curry paste 1 lime
For the salad
2 cups firm green papaya (grated) 1/4 cup green beans
1/4 cup carrots
1/4 cup cabbage (thinly sliced)
2 Tsp soy sauce
10 cherry tomatoes
2 galric cloves
1 small red chilli
1 Tsp lime juice
1/2 Tsp raw sugar or honey 1/4 Tsp salt
2 tbsp pan roasted peanuts
Method
The curry
Pour the oil in a pan and add the onion, garlic and curry paste. Cover the pan and steam fry over low heat for around 2 minutes.
Add the chicken and fry for another 5 minutes.
Combine the coconut milk, juice of half a lime and the fish sauce. Pour the coconut mixture over the chicken and add the kaffir lime leaves and cook for around 20 minutes.
Add the mangetout and cook for another 5 minutes.
Add the fresh basil and chopped coriander leaves and serve on its own or together with a papaya salad (see recipe below)
Sam tam (Papaya salad)
Mash the garlic and chilli in a pestle and mortar and then add the lime juice.
Combine all ingredients except the tomatoes and peanuts in a separate dish so that they are mixed well.
Then empty the ingredients into the mortar and mash together with the pestle to release the full flavour of the ingredients.
Transfer into a dish, add the tomatoes and peanuts and serve together with the green curry.